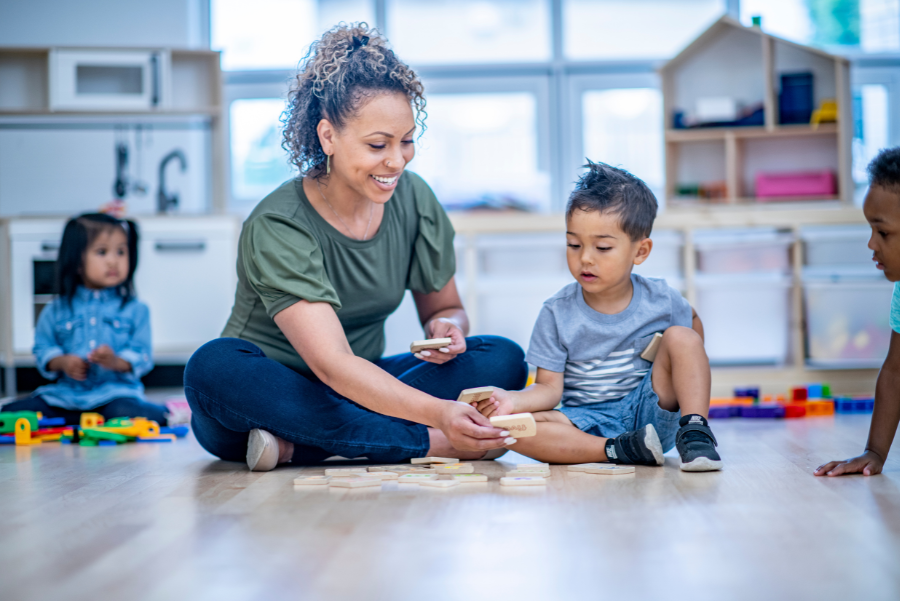 What to look for in a play school
At Play Sense, we have a play-based learning program to suit every family. Enrol your little one and give them the best start to learning. Get in touch to find out more.
As your little one gets to about 18 – 24 months, you will probably notice that they are becoming more curious. They're developing and exploring their curiosity about other people and the world around them. It's around the same time that parents usually start thinking about play school to give their little ones an opportunity to engage with other children (and to free up some time for mom). 
But as parents of toddlers, finding childcare that matches the love, attention, and comfort they get at home is daunting (read: impossible). After all, choosing childcare is one of the first pivotal choices you'll make for your little one. Just like where they go to school or whether you want them to play sports – these seemingly small decisions all add up to shape your child's experience of the world. And understandably, no parent wants to get it wrong. 
Fortunately, there are a few guiding principles to help you make a decision that is both practical and meets your little one's emotional and social needs. 
A safe environment 
When we talk about a safe environment, we don't just mean a place where your little one feels physically safe – we mean emotionally safety too. It's a non-negotiable that the play school you choose is safe, secure and free of hazards both inside and outside. Little ones love to explore, and they should be free to do so under supervision and without the threat of physical injury. 
On the emotional side, a small group will ensure your little one feels heard and loved and emotionally contained. 
A nurturing teacher 
Does the teacher make a special effort to engage with your little one? Get down to their level and give them a hug or connect with them in some way? Teachers make all the difference to education when your little one starts formal schooling but don't underestimate the power of a nurturing teacher at play school level. You want to leave your child in the care of someone who is in tune with your little one's cues and who is skilled at creating a reassuring, safe and fun environment for your little one to grow, develop and be themselves. 
Lots of playing 
There is plenty of research to support the idea that there is no such thing as a head start in school by teaching children reading & writing skills too early. In fact, all evidence to the contrary. Your little one is not yet ready to sit at a table practicing the letters of their name. Children need to play, and the right childcare will provide a combination of guided and unstructured play. The best (science-backed) way to optimise your little one's unique development for school and beyond is to find childcare that is play-focused and not skills-focused. Tabletop learning and worksheets should be a red flag!  
Low teacher to child ratios 
We talked above about the importance of an exceptional teacher, but even a really great teacher would struggle to connect with 10 busy toddlers all moving in different directions. A low teacher to child ratio is important. A ratio of 1:4 is appropriate for very little ones up to about 22 months, and from 2 years old, a ratio of 1:6 gives your little one the social interaction they need to develop and the individual care they need from a nurturing teacher. 
When it comes to finding childcare for your precious little one, work with these guiding principles to find the right fit. You will be more likely to have a smoother transition to play school which means less tears, anxiety and worry for you and your little one. 
At Play Sense, it's part of our ethos to only work with the best teachers in small micro-playschools. One of the best indicators of whether we are getting it right is happy, relaxed little ones who are excited to come to play school every day to play, learn and grow. Find out more about joining a Play Sense micro-playschool near you or if you are a qualified teacher or therapist and have a real love for little ones, find out more about becoming a Play Sense teacher here.